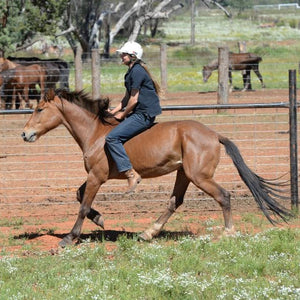 This video collection is the third step of the 4BP Method.
It will cover the following steps over 9 Videos available to stream after checkout. 
- Casual approach
- Head over shoulder
- Heavy contact
- Side work
- Foundation work- watch how the horse melts
- No verbal instructions
- Highly relaxed, straight and calm
- Haltering and tips on catching a horse
- Bonding with second person
- Patting with hands
- Staying in safety zone
- Pre mounting  - Rub down, pulling weight down over wither
- Pre mounting - small jiggers (feet stay planted) then small jumps
- Add more weight and noise
- Flopping over back and leaving weight over back
- Weight bearing
- Swinging over the horse
- Sitting in riders position
- First step under load
- Leading bareback
- Backing up under weight
- Riding unassisted with leading
- Riding with weight transfer
- Mounting
- Steering
- Dismounting
**2021 © 4BP Horses Pty Ltd All Rights Reserved
You purchase this film for your own personal use, for informational and educational purposes only. You must not copy or reproduce all or part of the film or distribute it for commercial or personal gain. Any unauthorised exhibition, communication to the public, distribution, streaming, copying or similar of this film or any part of it (including soundtrack) may result in civil liability and criminal prosecution. 4BP Horses takes the infringement of its rights very seriously.
You must not use any of the advice or recommendations given by 4BP Horses in the film as a substitute for advice given by legal, medical, mental health or other qualified professionals and you must seek independent professional help in relation to such matters.**