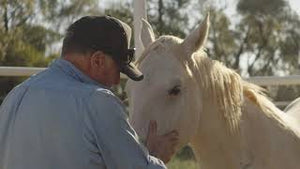 This revolutionary program is brought to you by our 4BP Horses founder Joe Hughes.

An equine program like no other developed over a lifetime with horses and humans catering to all trauma based afflictions. 

The first of its kind to be funded in Australia by NSW Primary Health Network for suicide prevention, trauma, depression, PTSD, schizophrenia, epilepsy, body seizures, conflict resolution etc. 

This program is a "self help"program with easy to follow directions outlined within a professionally filmed and edited film. 

"It is all about the human".

To achieve the most from the experience we suggest:
* use a quiet and manageable horse. 
* perform 15-20 minutes each day, twice if you can. 
* perform this for a minimum of 14 days, longer for greater results. 
* maintain a diary of each encounter with your horse so you can keep track of your emotions and look back on what made you happy. 

We are extremely proud to launch our 4BP Horses ONLINE wellbeing program. 

This program is normally $250, but as a launch special we are offering a special price of $70!
We really want to help participants.
So if you are willing to give us detailed feedback and results after you have completed 3 weeks of the program, you may be eligible to receive a partial rebate on the cost of your program.
Video available to stream immediately after checkout. 
** 2021 © 4BP Horses ™ Pty Ltd All Rights Reserved
You purchase this film for your own personal use, for informational and educational purposes only. You must not copy or reproduce all or part of the film or distribute it for commercial or personal gain. Any unauthorised exhibition, communication to the public, distribution, streaming, copying or similar of this film or any part of it (including soundtrack) may result in civil liability and criminal prosecution. 4BP Horses takes the infringement of its rights very seriously.
You must not use any of the advice or recommendations given by 4BP Horses in the film as a substitute for advice given by legal, medical, mental health or other qualified professionals and you must seek independent professional help in relation to such matters.**
 A testimonial from a participant in our 2021 4BP Horses Online Wellbeing Trial:
"7 June. Before the session, I was feeling very tired and negative. It was late in the afternoon. We had the session and because of his short attention span, I wasn't sure that anything much had happened but the next morning I woke up feeling great, positive and energetic. 
8 June I experienced feelings of my heart expanding while stroking Chester. That evening, I felt a renewed interest in self-development.  I found myself listening to podcasts and watching Youtube talks about self-development with greater interest and involvement and that has continued ever since. I felt really motivated to learn more about creating boundaries from love rather than from fear. 
9-11 June rain and very cold.
12 June A relaxing session. Feeling as if we entered into the present moment. Not having to do anything, but just observing the other horses and enjoying their company. A good experience to slow my busy mind. 
Since then it's been non-stop drizzle, overcast, very cold and lots of mud underfoot.... the weather conditions have simply been too difficult to do anything much except to feed the horses. However, I can say that my mood has continued to be good. 
Last weekend the rain cleared and I worked with my brumby gelding, Darcy. He was recently trained using the 4BP method, including lots of face stroking and so he is more amenable to standing still. He is a sensitive horse and he has issues with getting up close and personal which is interesting for me because I'm also sensitive and don't trust easily. 
26 June It was great to stroke his face. He liked it and we both relaxed. Then working down his neck and massaging the rock-solid hardness that he holds in his neck and feeling how we can both let go of tension together. We breathed together and gained a bit more trust.
28 June I felt a breakthrough today. We got really close, gazing into each other's eyes. He invited me, with his ears back, to stroke his neck and body, resting his hind leg. Afterwards, he yawned over and over again, which was lovely. I feel this session helped me trust in myself. In a difficult situation this week, I felt more confident to speak openly about my feelings. 
During the sessions, I find I can relax and be in the moment, feeling the touch of the horse and the exchange of love. I'm sure it will grow if I can do it more frequently.
Mon 12th
DARCY: Good experience with holding his head however because of his fears, I need to slow down. Being with him, I'm aware of my thoughts racing. Stood next to him with both hands on either side of his neck and waited. Patience.
SULTAN: Remarkable how he now allows me to hold his head. I stood in front, holding his head and just waited. We both relaxed.
Tues 13th
FERGUS: Accepted face pats after a while. Very good with neck hugs. Really liked that. Feeling at peace."
Message from Joe, our 4BP Horses founder:
When performing 4BP training, some of you will have experienced an intimate stage of connection, a feeling of innocent arousal will have been achieved.
The horse is the cause, so what combination of the emitting chemicals cause this or is there another chemical reaction altogether?
This is extremely interesting and has got me hooked, especially the Parkinson's disease/treatment bit.
4BP's development of trigger points on a horses face and controlled exposure to the activated horse, with a whole variety of afflictions (anxiety, PTSD, suicide, depression, schizophrenia, epilepsy) has delivered permanent relief of said such afflictions.
The following answers a lot of questions pertaining to clinics, linking of human to human, human to horse, empathy to one another in clinics and short "plug in" sessions.
"When you're first becoming intimate, you're releasing lots of dopamine and oxytocin.
That's creating that link between the neural systems that are processing your facial cues, your voice and the reward system" of a partner's brain, or horse.
Hugging, kissing, cuddling, can all trigger oxytocin production, which can strengthen bonds between adults, too.
These effects have led oxytocin to be grouped with the other happy hormones — hormones known to have a positive impact on mood and Emotions
Serotonin, dopamine, oxytocin, and endorphins are famously happy hormones that promote positive feelings like pleasure, happiness, and even love.
Hormones and neurotransmitters are involved in lots of essential processes, like heart rate and digestion, but also your mood and feelings.
Dopamine can provide an intense feeling of reward.
Dopamine is most notably involved in helping us feel pleasure as part of the brain's reward system.
Sex, shopping, 4BP, smelling cookies baking in the oven — all these things can trigger dopamine release, or a "dopamine rush."
Dopamine, oxytocin, serotonin, and endorphins, sometimes referred to as D.O.S.E. and involved in several bodily functions, these chemicals promote a sense of closeness, cheerfulness, self-esteem, and even love, making us bond emotionally and Trust each other
Studies show that they may be as effective as Parkinson's disease medications at boosting dopamine levels.
So when performing 4BP wellbeing treatment or programs, be conscious of your feelings, reactions, sensations, tinkling in your hands, stomach or pelvis…. It all means something.
When the horse is activated via 4BP facial points, it becomes a kind of giant radiator and if you stand in on the shoulder as directed, then you become soaked in the mentioned chemical reactions.
You become affected by all that the horse is enjoying ….100%
Say goodbye to gloom and hello to happiness.