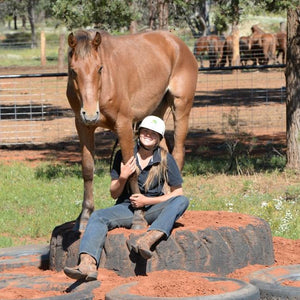 This video collection is the very first step of the 4BP Method.
It will cover the following steps over 10 Videos available to stream after checkout. 
- Face up
- Running face up
- Magic rope
- Rocking boot
- First touch
- First touch explanation
- Butterfly Kiss
- Fluent movements
- Casual approach
- First double touch
- Double touch explained and backing away
- Controlling a continuously running/agitated horse
- Setting of the horse's head
- Setting comfort zones
- Establishing friendship on an equal platform 50/50
- Approaching the cheeks
- Cheeks - massaging; drawing back to the nose
- Taking control of the head
- Massaging of cheeks and rubbing of eyes
- Establishing a 'go to' spot
- Covering of eyes
- Calming gland and eye rub explained
- Working from cheek to neck
- Reaching down the neck
- Bagging with hands
- An explanation of 'go to' spot
- Neck and shoulder- bagging with hands
"It's very important not to over-do it with your horse... don't ask your horse for too much." - Joe Hughes
**2021 © 4BP Horses Pty Ltd All Rights Reserved
You purchase this film for your own personal use, for informational and educational purposes only. You must not copy or reproduce all or part of the film or distribute it for commercial or personal gain. Any unauthorised exhibition, communication to the public, distribution, streaming, copying or similar of this film or any part of it (including soundtrack) may result in civil liability and criminal prosecution. 4BP Horses takes the infringement of its rights very seriously.
You must not use any of the advice or recommendations given by 4BP Horses in the film as a substitute for advice given by legal, medical, mental health or other qualified professionals and you must seek independent professional help in relation to such matters.**